---
9/3/2018
It's a rainy and quiet Labor Day here in Htown. .A perfect day for a good brew, burgers and a good movie. For the majority of us- today is an off day from the regular hustle and bustle of the work week. Any and everybody is always thankful for that 3 day, extended weekend! Especially if you're juggling a higher education and a full time gig .. This Monday off couldn't have come at a more opportune time!
Aside from the BBQ and brewskis, this day marks a very monumental day in U.S. history. Dating back as early as the 1880's , this holiday was created to honor the many laborers and workers in the United States of America.
I've always admired hard workers, and have aspired to be an even smarter and efficient worker.  Personally, I've never knocked anyone's "hustle" , but one name that we can't seem to avoid that has been all the buzz lately is the infamous Cardi- B! 
"F*CK him then I get some money" – Cardi B.
Now before "Gang Gang" decides to attack.. hear me out ! Cardi has without a doubt taken on the hip hop music industry by storm ; leaving a massive imprint on the culture! I have personal favorites from her latest album debut that instantly make me want to "shake my a$$" as soon as it comes on on the radio! We've watched this hood-Cinderella blossom from a reality-tv star , to a force to be reckoned with. And now , she's a new mother!
Aside from her creating hits like , " I like it" and "Money bag"; artists have always had the burden of an unwanted responsibility. Image, lyrics, & branding all play a key role in an artists's journey and career. Granted, not every artist is an angel like the beloved , Aaliyah , but one must still take heed to the impression that's left on the most vulnerable listeners . The youth shouldn't have to decide if they should make the choice to subject themselves and "sell their bodies" as a means of work/labor. The power houses behind Cardi's brand should take some accountability and think twice before pushing a sex driven, gang ridden culture. The youth have other options verses falling victim to another statistic .
"Make yo' money honey, don't let it make you".
---
7/15/2018
Visual Artist : Voka 
It's a warm and sunny Sunday here in the H today ! Thank you all for waiting so patiently for me to speak UP. . I let 7 months go by without blogging . Trust me I wasn't just sitting idle. Simply fairing my way through a sh!t storm that hit me head-on last year. Thankfully, the sun came back out to say the least.
"What've you been up to ?" , some might ask . Well, back in February I was terminated from a job that hired me on in October of 2017 .. I was used & blatantly disrespected on several different accounts. (Nah this ain't a pity party- this is a testimony to remind one to pay attention). On Monday, 02/13/2017 I was cornered in my office :
Supervisor – " You don't seem happy to be here, so we're going to have to let you go.."
Approximately 20 interviews later ? Scored a better gig, and those clowns ended up having to backpay me based on the state's decision ..but I digress!
So what's really good? Focusing on the forward motion. Learning how to exercise on a higher frequency: physically, spiritually, and mentally.  For some that maybe implementing more challenging/vigorous workouts, furthering one's education , or meditating . Personally ? I've been doing a balancing act with all three.
2018, a better you , a better me, and phuck anyone who tries to cross with their B$ toxicity. The door!
Sunday Sound OFF 
For those of you who stayed tuned into the NBA Finals , collectively we can agree that this year exceeded our expectations of "entertainment" !  After eye witnessing the many wins and losses of the entire NBA season , it might be safe to say the league was on some "WWE Sh..t !" (Yeah I said it.. ) .
This year,  Houston had one of the best, finely tuned engines considering the line up of athletes we had in our corner.  James Harden faired well alongside key players: Chris Paul, Gorden , Tucker, Greene and Ne Ne .
In game 7 of the Western Conference Finals, the Houston Rockets blasted off and lead the conference the entire 1st and 2nd quarter!  Our star player , Chris Paul , sat grudgingly on the side lines recovering from a hamstring "injury" onlooking his team's fate . The third quarter rolls around , A'Moute has stepped in , Harden (mentally checked out) , and we hand the Golden State Warriors their championship . Game over.
Since the season's close, the Rockets have rid themselves of their weakest link, A'Moute , and both Greene and CP3 have signed contracts extending their stay ! Go Rockets!
This year the goal is not to make the same mistakes! Let's GO!
Peter Thorpe Design & Illustration
---
1/1/2018
Welcome to 2018!
"If I was president, I'd get elected Friday.. assassinated on Saturday, buried on Sunday.. If I was president" ~ Wyclef Jean
It's a New Year , but the same you..or nah ? Have we collectively decided to do better? I know this much, if we don't stand for something, as a Nation we will fall for any and everything. It's past due time for us ALL to clean up our acts. So , in 2018 – think fast, think twice, dust that dirt off your shoulder, play it smart, but be nice. For those that still struggle with the concept of a good deed  , set your pride aside and pay it forward.   
2017 drove a hard bargain for the majority last year to say the least. Small wins stroked egos, and in turn , the losses reminded us to remain humble .  A long and arduous fight. Clamoring at the heel backs of ultimate, financial freedom. This year the challenge is to remain on the incline, because there are  a lot of people who honestly do not want to see their peer, friend, family, or lover win. (Cynical much ? ) Honestly.
Speaking of WINS ! The Rockets vs. Lakers game last night on NYE kept all of Htown on the edges of our seats! The Rockets struggled in the 1st three quarters of the game to align both their energy and their defense in order to dominate the Lakers. Last night's win followed a 5 game losing streak!  Prior to that,  the power team opened the season with a 14 game winning streak ! (Sounds like our 2017). Needless to say , the Rockets set the record straight last night after having gone into Overtime TWICE ! Harden sat out after having missed a layup , and falling on court.  Rising with a slight limp, he exit the court and the Rockets felt that knot in the pits of their bellies. But low and behold, CP3 stepped up and gathered his team , and we pulled through with a final score of 142-148! Good game H-town! Let's make this year bigger than ever before !
---
12/5
It's Woman Crush Wednesday , and I'm still his favorite.. haa haaa! I apologize, the last I checked in was my birthday, 10/27. I have been working hard to say the least. "Work ,work ,work , yuh see me afi work!" Either way , I am happy to play catch up and fill you in on the latest in HOT TOPICS !
Since the last you checked in , Trump is still making a mess like a toddler in his "play room" , ASTROS took home the World Championship, and the Houston Rockets are still taking names ! So , where do we start ? First off, how about a round of applause for the Houston, Astros! The last time I attended a game , the Astrodome was still all the rage. (Right now it's sitting in the NRG parking lot, collecting dust). Either way, Houston showed up and out and rightfully earned their well deserved championship.
Prior to the win, the city of Houston suffered a huge loss on account of Harvey. There are still a lot of residence here in Houston who are struggling to recover. If you are interested in helping them recover you can donate here >> helpsalvationarmy.org
In 2017, the Houston Astros delivered and totaled over 101 wins within the series , catapulting the Astros into a World Series CHAMPIONSHIP! Again, this victory couldn't have come at a more opportune time. Just as the city began to waft and wane in recovery; lives displaced – many were left questioning what would be the next step. Growing up in a city like Houston taught me to be the woman I am today. Houston strong, resilient and true. H-TOWN we salute YOU!
---
10/27
Find Your Happy Medium! 
After a long week of work, study, and play we all experience the sun setting , the lights dimming, and face the daunting reality of who's "in charge". In a world riddled with opposition, opinion, and dare I say.. hate, we are all challenged with finding our happy medium. In this day and age psychological warfare is real, and only the weak shall succumb to it. 
So where is your happy medium? What does one do? Turn a blind ear and eye to the brutal truth of the current state of affairs. Or rather look the problem square in the face and laugh at adversity. Maybe it is a combination of the two. Either way, it is very important to remain balanced spiritually, mentally and physically in these dire times. I found the best outlet is through exercise.
Exercise naturally boosts our body's endorphins which are also known as our "happy hormones".  So, if one finds themselves in a slump, get up and take a brisk 10-15 minute walk. A light jog on a crisp, autumn morning, coupled with a fresh fruit smoothie can turn even the most cynical individual's smile upside down.
Psychological Warfare: Fight the Good Fight ! 
Psychological warfare is the process of dissecting one's psyche, determining one's weakness, and literally attacking. Our power lies in our ability to resist, and power through. That begins with total self-awareness. How does one become totally self-aware? That practice begins with taking time to oneself, reflecting on one's strengths and personal weaknesses, then making a conscious effort to improve. Whether that be spiritually, financially, physically, and or all the above. Self-analysis is key to conscious living. There will always be someone that is rooting against you rather than for you. So, if you stay ready, you never have to get ready!
Our happy medium lies in the simplicity of a shared smile, laugh, hug, or pat on the back. Do you follow my drift? Do not allow the complications of this world to detour you from achieving your best you! Others may develop hobbies: crafting, yoga, cycling etc. The key is to cater to your heart; those that matter most to you.  Never forget to love yourself first, but always remember to love the ones who love you back.
It is so easy to get caught up in the woes of the world. One tends to lose themselves in the present calamity. Forcing a smile, to mask what lies beneath. For some it's disappointment, and for others it is much deeper. Maybe it is his dead-end job that that leaves him feeling empty inside. For her, it maybe the fact she has not married and gave birth yet. For the majority, their darkness lies within the lack of finances. So how do you fight the good fight? How can the majority be heard if we are forever overlooked, and now more than ever we are suppressed?
Media plays a big role in how the masses psyches are programmed to view another person of a different class, color or creed.  War is divisive, and psychological warfare is presently pummeling the tele-communicative airways. A constant and never-ending barrage of sexism, racism, colorism and xenophobia. A country we were all once so proud to say we are a part of has become one of the laughing stocks of the free world.
A country built on unity across cultures, and different backgrounds is now being viewed as one that is quickly tearing at the seams.  I encourage you to hold your fellow American's hand, stand tall, walk hard, and keep your eye to the sky. I am firm believer that this too shall pass.
God Bless you all in your future endeavors, and remember to keep going and never look back!
---
Follow us on Soundcloud ! Check out our latest PODCAST , HOT SAUCE! 
Subscribe to our mailing list
09/30/17
I was 13 years old when Hurricane Hugo ripped through my home town in the Virgin Islands, and had my life and community forever changed. I know exactly what kind of devastation a hurricane of this magnitude can cause and want to do all I can to aid in the relief efforts for the islanders. ~ Tim Duncan

The US Virgin islands were sorely effected by the catastrophic storms that recently ripped through the Caribbean 🙏🇻🇮. Tim Duncan's fund-raising relief is the only campaign that has been putting their donations to GOOD USE and HELPING the Island. Please find it in your heart to give what you have.

They are still WITHOUT POWER in St. Thomas, St. Croix (my birthplace) and St. John 🇻🇮😢, and power may not be restored until early 2018! Please find it in your heart to lend a helping hand❤ God bless
---
8/23/17

It's a sunny day here in H-Town ,  in spite of the darkness and tragedy that is currently plaguing the news.. We keep shining, smiling, and striving for something greater. Hate – it's a learned and conditioned behavior. Love, is also a learned behavior, but the greatest difference between the two ? Love is natural , and if you have the privilege of loving or being loved; pay it forward. Try a little more compassion, a lot more understanding and kindness. As simple as it seems, those few behaviors can make a huge impact and influence a greater cause other than hate and division. 
Judging someone because of their complexion,  ethnicity, the texture of their hair , their style of dress, talk, walk etc.. 9 X out of 10 , an assumption will lead  one into a brick wall. This is what hate is derived from : assumptions, lack of information, and stereotypes. Hate fuels war, and creates division. The question is why one would strive to divide a country solely built on cross cultural union?  The "United" States of America ?  Who are "they" really fooling, and why on earth are people of a darker complexion treated less than across cultures ? This is a stimulus we have yet to rid. A hatred we have yet to abolish. Yet, black women are still labeled angry , assertive and loose if one is outspoken, confident or well dressed. Black men are still labeled thugs, and pose a threat simply because of their complexion and stature. 2017 , and we are still faced with the perils of yesteryear. How do we make a difference ? Should I run for mayor ? Will you vote for me ? The Democrats need a stronger party. The Republicans are falling apart .. time to Dump the Trump.
The Work Place
Professional dress, talk, walk, shake.. pause. . my mistake? Look, no one is pointing fingers, but is it ok for them all to continue to just roll over and allow them to walk all over them, over, and over, and over again? So many questions, perhaps the next few paragraphs may produce a few answers.
They're angry? Collectively, we all are to some extent; but aggression has never amounted to anything more than broken ties, burnt bridges, and an unwarranted animosity. The women in the work place arguably face the biggest challenges. To call the "glass ceiling" a mere concept falls short of an insult. It's real, and hits the hardest when least expected. When compliments teeter on the tight rope of flattery verses assumptive flirtation. Or, just maybe that compliment, was meant to ignite a provoked flame. The question is why one would stoop so low to provoke the darkest side of an individual or dare say a group, minority, or in this case the majority.
Present day, women are subjected to cat calling, groping, and discrimination within the workplace. Men almost feel entitled to test the waters if a ring isn't present on her forefinger. Unfortunately, women fall victim to sexual harassment on the job, and if one is bold enough to notify HR, the woman more than likely takes the fall for blowing the whistle on the offender. The "Good ole' boys", the Alpha, and the Omega. They call the shots, and strike the gavel on what they see fit.
 ". . indivisible, with liberty, and justice for all." – Socialist Minister Francis Bellamy (1855-1931)
The New America ?
Image by Alpha Coders
As Americans, we pledged allegiance to a flag many moons ago. Today ironically, we are more divided than we are unified. Whether you're white, yellow, black, pink or brown; each religion, ethnicity, and race has been sorely effected by the current state of affairs. Wedges driven between countries, states, cities, races, social classes, and neighbor hoods; all prone to the aftershocks of xenophobia, racism and gender discrimination. The people have marched peacefully, reaping a hostile response in return. No one race, gender, or ethnicity should conform to the unwritten law of hate. Love is just, because love is understanding.
 "Love is patient and kind; love does not envy or boast; it is not arrogant or rude. It does not insist on its own way; it is not irritable or resentful; it does not rejoice at wrongdoing but rejoices with the truth." – The Way of Love
I Corinthians 13:4-7
---
It's almost my favorite time of year and summer is nearing its close.  Autumn, is upon us which means more Curry, Chris Paul and D Rose ! Last you guys checked in with me CP3 joined forces with the Houston Rockets, and more recently one of my favorite MVP's were drafted to the Cleveland Cavaliers after his one year run with the NYC Knicks!
Art by Julian Perry 
The ever so humble Derrick Rose has had quite a run thus far in his NBA career! Getting his ultimate shine on with the Chicago Bulls, earning his rightful title as MVP in 2011 , when I had the privilege of seeing him in action at Chicago's UNITED Center earlier in his career ! Watching him shine alongside his right hand man , Joakim Noah, who in turn followed him to his pivotal move to the NYC Knicks in the prior season.  Now, Rose has been set free to fly along side key players like Lebron James , who was once the Bull's rival ironically . I'm so excited to see how this year's NBA season plays out ! The NBA Mix UP is real , and I hope you all are ready for one hell of a ride ! (Who you got ?!)
---
7/16
Good evening friends, family, strangers and kin! If this is a first visit; welcome new friends ! We keep things light, fun, and sometimes a little left field, but over all we keep it oh so real .
I took a brief hiatus because my laptop decided to take a long nap, but now I'm back on the map and in full effect with my trusted apple device (ha ha!) and I'm pumped because in a span of two months some great things have happened! Last I checked in , some of the most competitive teams in the NBA were going toe to toe competing for their chance to win the Championship.  The Golden State Warriors not only earned their championship title , but they also took home an Espy for 'Best Team' !
The 2017 NBA drafts faired out pretty nicely. The Houston Rockets welcomed one of the most competitive players in the league , Chris Paul ! Being an Htown native, it's fair to say that the Rockets needed a player like CP3 to join forces with Harden and form a stronger alliance. After all, the Rockets didn't go too far in the play offs . They were laid to rest by the San Antonio Spurs early in the game. Harden decided to pass the ball a little too late .. , but no need to dwell on the past !
Rockets Redemption?!  CP3 Welcome to Htown!
Painting by Jeff Gomez
---
Summer BOD! 
The dreaded summer bod routine .. Are you and all your friends getting into the swing of things? The gym fiend,  verses one who walks their dog to burn a few calories ? Or would one rather swim to their success? Or perhaps cycling reduces the stress . Which ever one chooses , either one or all of the above ; exercise is necessary and helps to reduce and prevent all types of ailments (aside from the results of a HOT SUMMER BOD) 😉 .
So, if one chooses to sign up and pay a monthly fee and join their local gym ; the key is to stay at it. For those that still struggle to motivate themselves to get up and move; the challenge starts with you. Here are some tips to help kick start a weekly routine.  Some things that I do to keep myself nice and lean.
Painting by Pablo Romero
1. Write it down! Something as simple as writing out a self plan helps to instill and validate your course of action. Journal your progress ! Are you planning to lose or gain weight? If so , what will you do to make that happen?
For those trying to lose a few extra pounds for the summer , cardio is your friend. If you have access to a gym, the elliptical and stationary bicycle help to burn calories fast while giving your joints a much needed break from the wear and tear of a standard treadmill. Be sure to start your workout routine with an intense cardio exercise . That means 30 min minimum . If one chooses to ride the bicycle , be sure to keep a steady pace and not to pedal slowly if the bike is in a higher gear to avoid the dreaded 'biker's knee'. Exercise already puts the body under stress, but one should take heed and avoid injury at all costs.
2. Protein , protein , protein ! Whether or not one's goal is to gain or lose weight; it is pertinent to supply the body with PROTEIN at least 20 minutes following an intense work out. Protein helps to restore the muscle that was broken down during the work out . Whether you choose to use a supplement or a meal, be sure to supply yourself with a healthy source avoiding bottled protein if possible. Most bottled protein drinks or shakes contain a lot of SODIUM , which in turn results in water retention , also known as BLOAT ( no bueno ) .
3. For those simply trying to maintain a leaner and fit body; light weight training is extremely beneficial. For instance , the leg press for the ladies – there is no need to press anything over 110 lbs ( Unless you're aiming to be a She-HULK) . On the arms , personally I do 30 lbs in reps of 20 , a minimum of 2 sets .
Cal-aesthetics are an excellent way to ward off excess body weight. Cal-aesthetics is simply body weight training . There are several different moderations of plank exercises that can be extremely beneficial in reaching ones personal fitness goals . Plank exercises tend to target the core , arms , legs and back. Try mixing in plank exercises with your daily routine for a better result !
Enjoy your workout and keep in touch !
---
05/14
Happy mother's day to all the mother's out there ! I'm not one yet , but only time will tell.  For those who weren't as fortunate enough to spend it with their mothers today; I wish you strength , love and light. If moms didn't exist none of us would be!  So whether or not mom is boss, top lady, Queen , or all three; today we celebrate you (and even the moms-to-be) ! Happy Mother's day mothers. You're the real MVP.
---
04/17/17
Monday means back to work for the majority of us . (Of course, the entrepreneurs never stop working ),  but even God rested on the 7th day .. so they say . Passover was this past Saturday, and both the  Bulls and Rockets resurrected themselves on the court this past Sunday to kick off what anticipates to be a very exciting NBA play off season.
Here in North America it's tradition for families to gather on pagan holidays. We cook, drink, fill our bellies and make the best of what life has to offer in the moment. For those too lazy to slave over a hot stove; they make their way to the nearest restaurant and dive in!  Once we fill our bellies , we kick our feet up and watch a good game .
Resurrection Sunday
The Celtics verses Bulls game last night was on fire ! Final score 106 to 102 , Bulls victory ! It's surreal to see All-star players like Wade, and Rondo playing on a legendary team like the Chicago Bulls. I wonder what was going through Rondo's mind playing against a team he once called his own ? Remember back in 2008 when the Boston Celtics took home the NBA championship ?! Back when Ray Allen (one of my favorite ball players in the League), Pierce , and Rondo all played alongside one another. That's what I call shaking things up !
On the other hand the Rockets rightfully earned their win over their first game against OKC last night. Final score, 87 to 118 ! A complete blow out ! There's been some talks of Harden possibly taking home the title of MVP once again . After all , Harden upholds some of the most impressive stats in the League. I guess we'll all have to stick around to wait and see. (Who you got ?!)
---
Just last week we all recently lost another admirable member of the comedic community, Mr. Charles Murphy . He brought us all laughter, and was unexpectedly ripped away from us after fighting a silent battle with Leukemia . May God have mercy on his family in these dire times, and may God have mercy on us all .
This has got to be one of my favorite Chapelle skits ! ( I'm holding in the laughter as I type). The famous reenactment of the late and Great Prince . A  snap shot of Prince (Chapelle) serving Charlie Murphy (reenacting himself) pancakes after Prince's basketball victory.
BLOUSES .  
---
03/20/17
Monday , March 20th marks the first day of spring ! Some spent it at the gig, others had the luxury of spending it in the sun, on a sandy beach while the rest of us imagined we were sun bathing on the beach towel next to you !
Spring cleaning means we clean up the crib, the whip, the mind, body and spirit. Out with the old , and in with the new . A new cut , a new do, a new whip, a new you ? Possibly.. (Now what to do about this healthcare crisis? CALL YOUR LOCAL STATE REPRESENTATIVE AND TELL THEM NOT TO DO AWAY WITH OBAMACARE.
http://www.house.gov/representatives/find/
---
03/02/17
NBA in the Mix 
Evening folks , anybody catch the game last night ? The Houston Rockets took home another victory against the Los Angeles Clippers. Final score 122 to 103 ! Good game H-town .
The NBA most definitely shook things up at the beginning of the season with all the trades that took place prior to the season's launch .  Key players were plucked, pruned and sown all over again with hopes of reaping a greater harvest. Derrick Rose and his right hand man, Joakim Noah , made a successful transition over to the NY Knicks .  It's almost surreal to see star players like Wade and Rondo playing on any other team other than the Heat or Celtics. Either way, the NBA shake up has definitely made for some good, wholesome entertainment.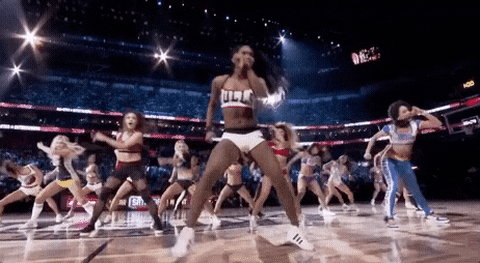 ---
03/01/17

"It's been a long time.. I shouldn't have left you.. without something to step to"
Hello stranger, hello friend, hello song that never ends.  I have to start off and extend my sincerest apologies.  The last I blogged was approximately 02/07/16 .. shame on me, but honestly at some point the poliTRICKS got the best of me . I got tired of keeping up with the gimmicks and the lies. I yearn for the truth or at least something that closely resembles the truth.. you know ? Like its prototype .
So much has taken place within the past year. Trump swindled his way in the White house, Hillary was humiliated once again after a long , arduous political battle for office, the Oscars added a little more flavor to the pot , and Nikki Minaj was finally put back into her plastic box (thank God and thank you Remy Ma)!
Ever since Donnie stumbled into his Presidency , the NATIONS have united in protest in an act to essentially trump him out of office ! Millions of people across the world joined in protest marching against him and all that he stands for.  And since then, Trump's belligerent , racial, sexist slurs have either brought out the best or the worse of the US citizens .  The day he took office, women all across America came together to protest against him being in head of office.  We were all left in shock and awe as to what comes next ? Phuck the founding fathers.. WHAT ABOUT THE MOTHERS ? What about their daughters, their sisters , their aunts , their grandmothers.  God bless America ..
---
On a brighter note, the Oscars were all the rage this year in 2017! So much life , so much talent, and one of my favorite late night , talk-show hosts did a fine job of keeping us all engaged during the ceremony . Jimmy Kimmel , you've gotta love him !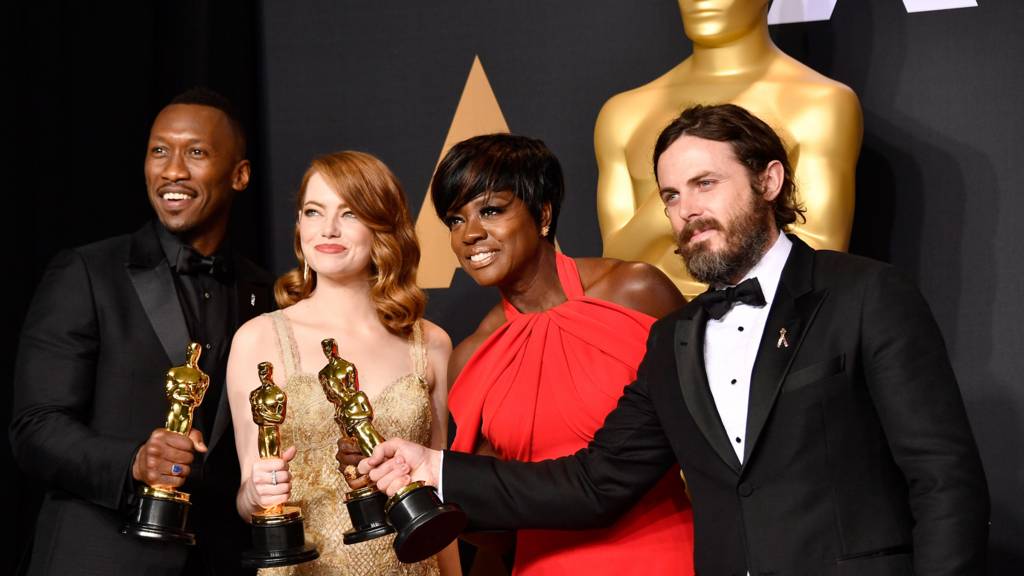 From left to right: Merhashala Ali Best supporting Actor in Moonlight,  Emma Stone Best Actress in La La Land, Viola Davis Best supporting Actress in Fences , and Casey Affleck Best Actor in Manchester By the Sea.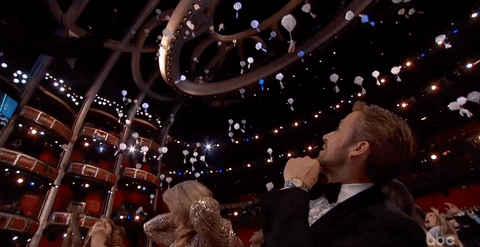 It's raining JUNIOR MINTS at the OSCARS 2017 ! 
Who's wearing WHO??
Janelle Monae poised in Ellie Saab COUTURE ! Yes ma'am and that pixie cut is giving us all life honey ! 
Ms. Janelle Monae has hit the ground running this year in 2017.  Opening up doors for young girls that aspire to be like her.  Making her debut appearance in a best selling movie , Hidden Figures, and taking home a win for Best Picture in Moonlight .  Congrats Ms. Monae ! Your Black Girl Magic is untouchable !
Thanks for logging onto OFFICIALSHAYNA.COM
---
02/07
Ooooooh Yus! I like DAT !
Queen Bey gave us all a stunning surprise yesterday ! Reasserting herself in this music game! She could care less about the rumors and hearsay .  She's black, beautiful and proud , and if anyone has anything to say in opposition; she'll graciously give you the finger ! 
"Always stay gracious , best REVENGE is your Paper .." #Beyonce 
Officialshayna.com where we keep it current, BOLD , and Beautiful 
Queen Bey teaches us all the ins and outs of what women of color, strength and charisma face within this nasty industry.  She defies stereotypes , yet stays true to herself and her family.  Even the greatest stars require the best management team, and sources have revealed, the Queen has recently revamped her entire management team.  Keep it up Bey ! It's working in your favor ! #SlayBeySlay
---
01/24
Thanks for taking the time out of your Sunday to log onto Officialshayna.com .  Where we keep it fun, current and a little left field ..If you're anything like me, you got in a little workout to kick off your morning, cooked a hot meal and caught up on your favorite sport.  
---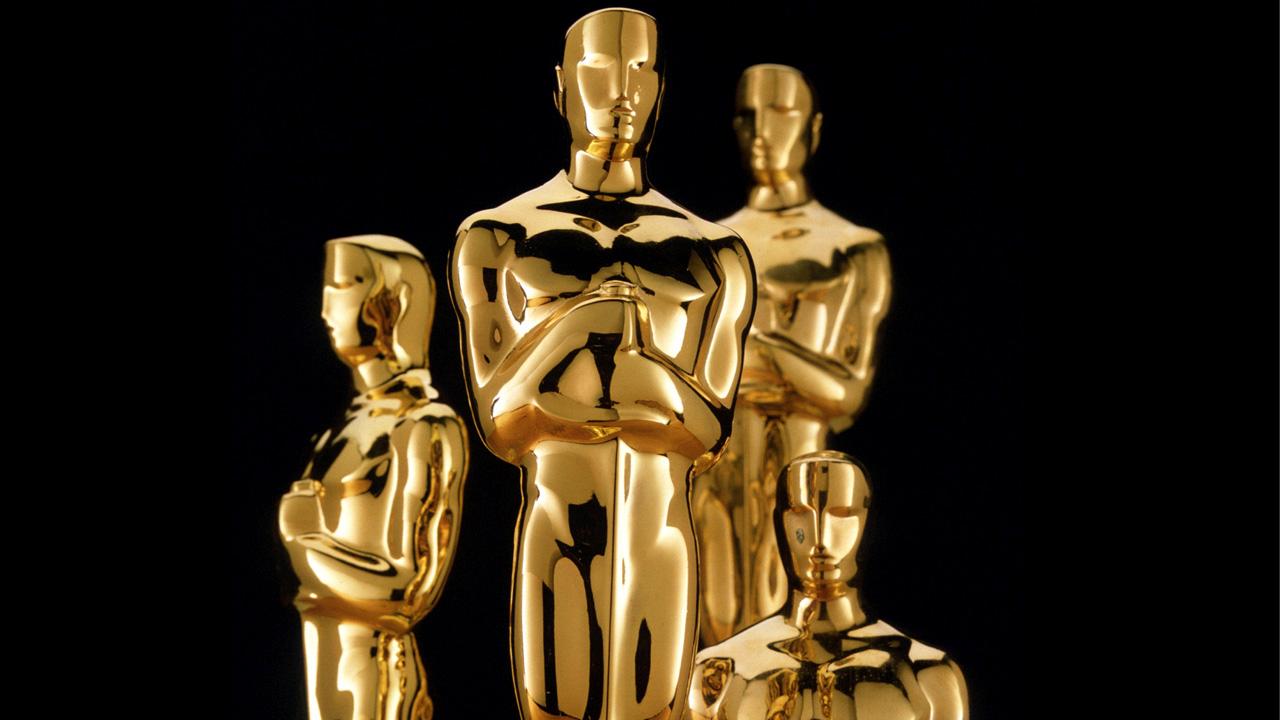 Speaking of WINS.. what's the real deal with the Oscars? Recently there have been quite a few artists and celebrities speaking out against the bias of the Academy Awards.  The beautiful and talented Jada Pinkett Smith spoke out recently addressing her observations of how many Black actors in Hollywood are often overlooked and receive little to no recognition for their talents.  Rumors flew about the possibilities of boycott.  When in actuality, Ms. Smith did not use those words, "boycott".  She simply said she would not be in attendance, and her husband stood by her.  
#OscarsSoWhite
01/12
Obama State of the Union Address
"We the people .." … " ALL the people, not just some"
Tonight the President discussed the current state of affairs.  He addressed our recovering economy, affordable education, affordable healthcare, and the country's future.
" Our collective futures depends on your duties as a citizen to VOTE." – POTUS
Personally, free community college is the golden ticket. For the students that are responsible and dedicated; if the President is able to follow through with this plan in 2016, this can also have a direct impact on the uptick of our economy.
Present day, a four year degree is almost the equivalent of what a high school diploma once was.  If you're anything like me, Sallie Mae is most definitely a pain in your back side.  Higher education has always been extremely expensive, and has left a number of Americans in debt.  President Obama's concern leaves this country with a sense of promise.
Unfortunately, the country is still somewhat in "limbo" with the new election fast approaching.  Trump is currently running neck and neck with Cruz in the Republican party, and Hillary Clinton is still struggling to secure her seat in the White House.
I'll rock my vote eventually, but honestly… I value integrity, and so far the current candidates have me all scratching my head …
---
2015 RAP UP "SKILLZ"
01/01/2016
It's your girl, Shayna love and if you're logging onto officialshayna.com , for the first time – WELCOME ! We keep it current, fun, a little left field (when necessary) ,but I'm here to keep you all informed on the good, the GREAT , and sometimes , the "not so great".  CHEERS ! 
2015 Highlights .. What were some of the most memorable moments of 2015 ? For me personally, it was the fam, my MU$IC, and my day job.. (gotta pay the bills honey).  
In Pop Culture , we shared parallel worlds: Mr. West and his wife conceived a second child and he showed us all it's okay to dare to dream.  The Yeezy Boosts catapulted the gym shoe to NEXT LEVEL.  Nah.. I didn't cop a pair, but if you've got $350 bones to splurge ? Be my guest !
Ri- Ri is apparently still looking for the bih that didn't pay her back in a timely fashion, and her Navy is still anxiously awaiting the release of ANTI diaRy.  
" Hear no evil, speak no evil, See no evil "
A couple more wig changes, wardrobe malfunctions and several albums later .. Niki Minaj is still slaying on all levels of Urban and Pop Culture, but 2016 is the year of WOMAN.. Standing Ovations for the women that opened the doors and paved the way for others to step in and show out.  
This year will determine the culture shift ; we all have the potential to impact the world with love and compassion , verses the over saturation of sex and women's exploitation.  
Last night, the home-girl Ke Ke Palmer rang in the new year with her talent and sealed the deal with a kiss !
2016… Bring it ON! 
---

10/19
" A message to the HATERS.. You were right, I was doing everything wrong, and I promise to be better from now on ", said Scott Aukerman #ComedyBangBang
The homie Kidd Cudi scored a hot-seat on IFC's "Comedy Bang Bang"! I'm corky .. so this type of stuff excites me. Improvisational humor, cute rappers, and nice sweaters. After all, 'tis the season', for sweater-weather that is.
The ever so GORGEOUS A$AP made a guest appearance on the show recently.. left us all dazed and confused.
Love, $EX , Dream$
Remember when Pretty Flacko first came out? That young Harlem boy, surfing over high hats and 808s, accompanied by a hypnotic chop and screw. Gold fronts in his mouth.. " We be reppin' the $outh.. ", Po UP? .. (For me? maybe some Patron, but I say, NO to the lean).
"Drink responsibly me amigos!"
HOtline Bling Video
"DAncehall a-go GO UP "
"CAll me"
---
10/12
Hey world.. I'd like to apologize for my brief hiatus. So much has taken place within the last couple of months, and I still don't know who to vote for ..lol.
Not too long ago Hip-Hop icon, Kanye West, made the announcement he'd be running for President in the year 2020! Now, if your sense of humor is anything like mine.. I nearly fell out of my seat in laughter following his speech! Nothing wrong with having a sense of humor. Honestly, with Trump in the lead, Mr. West's "joke" doesn't seem too far fetch. Recently, President Obama shared his thoughts on the current state of the 2016 Presidential race.
Where do we go from here ? ..We can march, we can sing it out , but when will our voices truly be heard and respected?
---
08/20
#TBT
"I love the 80's "
Arguably one of the Nation's best decades. The 80's played a paramount role in shaping the U.S. of A. Music having one of the biggest influences in both politics and pop culture. Ronald Reagan served as the 40th President of the United States of America. He also had the privilege of carrying the presidential torch for both terms from 1981 -1989. Reagan coined the term , "Reaganomics" : reducing inflation, tax cuts, and improving the state of the US economy during his term.
" Let's Make America Great Again! "
Present day, a familiar face is claiming they're planning to sing a similar tune , " make America great again ! " , Trump.
Donald Trump, currently leading in the poles, believes he's the answer to all the World's ills. His cocky yet gregarious approach in addressing the current state of our economy has somehow worked in his favor. Last night Trump addressed the current state of affairs at the first Town Hall Meeting.
---
07/27
MTV's first documentary of "White People" aired last week Wednesday. A social experiment that addressed some real life issues present day. The elite, the privileged, white people. Discussions of self identity, "social" security, and the rippling effect it plays in today's society.
Question: "What's it like to be white ?"
Her answer: "You kind of get this feeling that things belong to you .."
His answer: "White is the default – it's the default race. "
A touchy, but necessary social stigma is addressed countless times throughout the documentary. From the perspective of the minority to the majority. The social awareness of race, creed, culture, and social entitlement.. your thoughts ?
---
If you're anything like me; Amy is the first artist I look to when I karaoke. Passionate, soulful, vulnerable Amy. This isn't the first biopic that's been released since the tragic loss of this Icon, but I'm sure it will give us a closer look into the fragile, climactic life of Ms. Amy Winehouse. Check out the trailer below ..
---

07/10
#Takedowntheflag
After the tragedy of Charleston that took place several weeks ago; the crude display of hate sent the Nation in an uproar. I can attest to one of the individuals who signed the petition for the removal of a flag that once soared high above the city's Capitol. Today marks a historic moment in our Nation's history, because today we took that flag down!
It was a constant debate of culture verses a blatant display of racism, in spite of the abomination that took place in Charleston just shy of a month a go. The city and the Nation overcame and unified displaying love and support for one another as the Nation grieved Charleston's multiple losses and we were all faced with the reality of "hate". The removal of the flag is one more step in the right direction for our Nation under God.
---

TIME: 100 Most Influential People
Mr. Kanye West "The Boundary Breaker"

Mr. West fought through the wire, gruesome rumors, and all the messy press to earn his respect, and dare I say.. POWER. Whether you're a fan of Kanye or his wife; a Chitown native has proven himself to be one of the 100 most influential people in 2015.
3/26/2015
#LADIESFIRST
In celebration of Women's History month, we recognize the Queens who paved the way for aspiring artists of our generation, their impact present day , and their waves of vibrations resonating for generations to come .
Ms. Lauryn Hill, a legend in her right; recently selected as one of the 25 records archived in the Library of Congress, The Miseducation of Lauryn Hill.


The Miseducation of Lauryn Hill, a 5 time grammy award winner, also recieved recognition for Album of the Year in 1998.

---
Time Hop ..
Ms. Lena Horne, an American actress, singer, dancer and Civil Rights Activist. The timeless beauty who made what was once impossible, possible; black women in film and theatre.

A career of a lifetime: 70 years in film, television and Broadway. Ms. Lena Horne, we salute you!

---
"Halle Berry! Halle Berry!" The first African American, woman to recieve an Oscar for Best Actress.
---

This is a Man's World !

March marks the month of the celebration of women and our femininity. Too bad we still have to tolerate the world's restrictions once the month is out. Hell, "It's a Man's world !" after all. At least according to the God Father, politics, politricks and all of the above.

The almighty Boy's Club. The Dictators of our government, and the gate keepers of our salaries . The man, the leader and the head. Some would even question why another would question a woman's place as "second best" , verses a man's equal. Physically they're stronger but does that leave room for the female to be bullied or overshadowed within any given working, industry?
According to Mrs. Carter, we all have a little more confidence knowing we have the potential to run this world. Salute!
---
03/08/2015
For decades women have experienced the plague of stereotypes, and set expectations of how we should conduct ourselves; who we should be. Experiencing discrimination within our work place, labeled "bossy", "sassy" or accused of having an attitude if one chooses to show any sign of self confidence or leadership. Today we celebrate the women who dared to go against the grain, and break through the glass ceilings set in place . Today, March 8th, 2015 we celebrate International Women's day.
Black Women in America: When keeping it real goes wrong..
---
"It's the first of the month .. Wake up wake up."
03/01/2015
Relationships – side chic vs . side who?!
The other day I had this very random discussion about relationships. Fidelity verses infidelity. Questioning the parallel worlds of the uncommitted young man verses the uncommitted young woman. Where is the line drawn? Who determines who's right from who's wrong? Discussing all this and more in today's hot topics .
In 2015 , the evolution of love and relationships have taken on new plights, or some would say, a new "perspective". The act of free liberation within one's said "open relationship", and still the possibility of one or all parties getting hurt in the process. From "just friends" all the way to the other end of the spectrum, monogamy.
Personally, I'm an old fashion kind of gal ,but times are changing faster than the next viral, social application. The real debate is whether or not women should be judged for stepping outside of their relationship. For example, when a guy and a girl meet; if they like one another, the two will eventually come to some form of mutual understanding if they continue to date. In a perfect world , both parties would have a clear understanding of whether or not they're going to commit to one another, verses an occasional good time. Unfortunately, the world we live in is not so perfect…
---
"YEEZY taught me.."
2015 has already proven to be a monumental year for hip hop, and the legends that have helped to open new doors of opportunity. Artists taking risks and leaving their impression, whether good or bad; we all kept watching. Kanye West, a man of many words who often is misunderstood proves that perseverance will eventually attribute to the fruits of your labor.
Kanye West releases new clothing line at New York Fashion Week .



New York fashion week 2015

Kanye West and Will Smith spotted here outside of a recording studio in Brazil. A future collaboration in the works with one of Hollywood's best film actors.
---
08/03
#Flawless Remix FT. ONIKA..

"I'M TEXAS FOREVER.. THESE THOTS CAN'T CLOCK ME NOWADAYZ.." Yonce'
Bold and unapologetic Yonce' addresses the infamous elevator incident..
""We escalate, up in this bitch like elevators, of course sometimes s–t go down when there's billion dollars on an elevator," Bey.

---
Where's HIP-HOP headed ?… With more and more crossing over to a genre wrought with aggression, sex, compassion, drugs, and street life; some question whether or not the new comers are making a mockery of what we once held so dear to our hearts. Hip Hop and it's commercialization; Iggy shares her skewed point of view below.

Iggy Azalea Def Jam Recording Artist

"Music is art to me . You don't censor art. You don't go into a museum and censor things," Iggy.
"It's different, it's weird to say, 'She's a white rapper or she can't do this because she's this color – this color does this thing. These are the boxes we have, this is what it is, don't try to change it.' And it's crazy to me because I'm just not from that world, so I can't really rock with it all the way," Iggy.
---
Seventeen year old singer/songwriter made a huge impact on the Billboard charts this year with her hit single , "ROYALS". She serves up a dose of REALITY with her audacious lyrics and bellows out the truth from the pits of her soul..
[Verse 2]
My friends and I—we've cracked the code.
We count our dollars on the train to the party.
And everyone who knows us knows that we're fine with this,
We didn't come from money.
But every song's like gold teeth, grey goose, trippin' in the bathroom.
Blood stains, ball gowns, trashin' the hotel room,
We don't care, we're driving Cadillacs in our dreams.
Hip Hop's gone global.. let's learn to embrace it xoxox.
---
YONCE' and JIGGA ON THE RUN..
The Queen Bee has been taking names for over a decade in this music industry and she's not letting her foot off the gas pedal! This Power couple locked arms and took flight touring the US of A in their most recent tour, "On the Run".
Rumors have been circulating about a possibility of their marriage being on the rocks, but as we all know; RUMORS hold no merit. These two hold power in their names, and their bond is unbreakable. It's beautiful to see a strong, black man treat a beautiful, talented, strong black women with the utmost respect. True LOVE is the glue that holds it ALL in place.
---
"Pills and Potions".. What's she promotin' ???



06/10
"Natural Nicki" finally released her CHART TOPPING visual for "Pills and Potions". A closer, intimate, softer shade of Nicki. She unveils her vulnerabilities in this number, with rap-star, GAME making his chameo appearance..

"SEX, DRUGS AND ALCOHOL"


"I still Love you.."
---
06/04
Signing on after a busy week of music, fashion and some occasional gossip.. (sigh) but I guess even the BRIGHTEST of stars can't escape the hate. Mixed reviews of Kimye's wedding and the Ever so Rude, Ri-Ri draped in Swarovski crystals at the CFDA Fashion Awards earlier this week.
Rihanna proudly accepts the award for Fashion Icon Winner . According to our sources; the gown was composed of over 230,000 Swarovski crystals. She stunned us all with this revealing twist! She's probably the one and ONLY celeb that could pull this one off; a true work of ART. ( For the skeptics, our sources confirmed Rihanna left the venue in a much less revealing dress. ) *wink smile*
---
KIMYE
finally tie the knot xoxo !
---
05/28
On this day we mourn the passing of Dr. Maya Angelou. Poet, and author of over 30 best sellers, actress, singer and political, civil rights activist passes at 86 years of age. Dr. Maya Angelou will forever reign, reminding young women and those coming of age that we too have a voice, purpose and mission to stand for what we believe in. A constant reminder that we should give love and receive love with every waking breath.
The Original "Miss Calypso" captured here from a 1950's performance.
---
"Nobody is going to take you to the front of the line — you need to push to the front of the line," ~ Dr. Combs ~

Earlier this month Diddy took on a fourth name and added another accomplishment to his bucket list, humbly accepting the Honorary doctorate from Howard University! His drive is a constant reminder of a "can-do" attitude. Congrats Dr. Sean Combs, and an even bigger congratulations to the class of 2014!!
---
#BRINGBACKOURGIRLS NOW
Pray for our nation.. and shoot up an even bigger vibe for the world. Bring back our girls .
---
California Love..

05/09
"The first billionaire in HIP HOP right here from the motherf—-n West Coast," Dre announces.
Today rumors flew about the Doc's most recent accomplishment; the God stumbled across the deal of a lifetime ! According to our sources Dr. Dre is set to close a $3.2 billion dollar deal with his new partner in crime, Apple Inc.
Jimmy Iovine, Apple executive, head of Interscope Records and original founder of Beats Headphones hinted at the merger earlier this year. With Beats and Apple partnering it would only contribute to the "music empire" , keeping apple users connected via i-Tunes, i-Pod and or their personal i-Phones.
---
in the meantime.. SHOTS FIRED !!
Natural Nicki set a fire that won't stop Blazing! Young Money's Tyga responds to "Chi-Raq" with his own rendition of heavy-weight rhymes accompanied by the infamous GAME to follow up on Durk's attack! Who is "Lil-Durk" ? .. According to the GAME , absolutely nobody..
"We're about to put out a piece of art like nobody else has done in the history of [modern] music," says Wu-Tang Clan member Robert "RZA" Diggs. "We're making a single-sale collector's item. This is like somebody having the scepter of an Egyptian king."
If you haven't heard.. Wu-Tang is cooking up something monumental this year! 2014 marks the year of Wu-Tang's 20th anniversary. In commemoration of their legacy, the reunion album, "A Better Tomorrow" , is set to be released this summer. Following that album's release, Wu-Tang plan on doing what no artist has done before – Releasing a SINGLE ALBUM for their most devoted fans to bid on !
The double-album , "Once upon a time in Shaolin" , is one the Clan have been working on in secret for the past few years. The album is encased in a silver, nickel box crafted by British Moroccan artist , Yahya. Prior to the album's sale; the album will tour the world, being featured in special museums and galleries. Just like a high-profile exhibit at a major institution, there'll be a cost to attend, likely in the $30-$50 range. Once the album completes its tour, Wu-Tang will make it available for purchase for a price in the millions!
---
This diva has been one of the most influential female, rap artists of our generation. Crossing genres, genders and color lines .. kids cover your ears and leave the room this Queen Bee has NO FILTER..
Nicki's latest single , "Lookin' ass nigga" didn't cease to amaze. If anyone has the art of "shock and awe" down to its science – it's this chic. Ms. Minaj puts the shoe on the other foot and serves up a dose of hip hop's own degrading poison. If you're at all familiar with the culture and the current state of music – black women are not necessarily the most respected key figures in this industry. In fact , "hoe" and "b!tch" are the two most profane words used to describe women in the majority of the commercial music that's shared with the masses today.

---
When it comes to hustle and ambition; this Diva sets the bar high! Yonce' surprised us all with her latest album release, self titled, "Beyonce" . Stirring up quite a few discussions about her bold lyrics, and racy visuals.
Mrs. Carter can do no wrong.. Truth is – he " put a ring on it " , and as a grown woman – Queen Bey' has the liberty to express herself as she chooses…
BEYONCE' "GROWN WOMAN" VID <<< WATCH IT HERE
---
Uncle Rush appeared on Arsenio Hall last night addressing some very touchy topics : the "n-word" , Kid Cudi and the direction of where Hip-Hop is headed . Promising ? ..
Uncle Rush discusses KID CUDI AND THE CURRENT STATE OF HIP HOP <<< WATCH IT HERE
---
---
03/24

KIM-YE STRIKE A POSE in the latest Vogue Issue
---
Lady Gaga releases 11min Vid "G.U.Y" ( Girl under You ) Aphrodite ..yummy ~
Gaga never let's you down .. she'll leave you spell bound with just the flip of her wig! Hold onto your lace fronts ladies (no worries, there's no vomit or raw meat in this rendition). Instead she's serving it all , holding nothing back, living and reveling with the Goddess of Love. Only the "best freaks" can relate *applause applause*
GAGA G.U.Y <<< WATCH IT HERE!! <<<<
---
---